Over at least a decade, Amazon has received lots of negative critiques about working conditions in its fulfillment centers, with those critiques accelerating in the last year, especially in the UK.
One especially negative report claimed that workers were afraid to even take restroom breaks that might be criticized by supervisors. (See Amazon warehouse workers skip bathroom breaks to keep their jobs, says report.)
Supply Chain Digest Says…

The Twitter accounts are similar in appearance, sporting an Amazon smile logo as a header image and featuring a picture of the user in the FC they worked in.

---
What do you say?
Click here to send us your comments

Click here to see reader feedback
A book titled "Hired: Six Months Undercover in Low Wage Britain" was especially hard on Amazon.
"Amazon was the worst employer, easily," author James Bloodworth told reporter Nina Shapiro of the Seattle Times in Amazon's home town, relative to the other low wages jobs he took at a call center, as an Uber driver, as a construction worker, and as a home aide caring for the elderly.
Amazon denied the allegations in the book relative to work conditions, adding that "We are committed to treating every one of our associates (the term Amazon uses for its warehouse workers) with dignity and respect. We don't recognize these allegations as an accurate portrayal of activities in our buildings."
Now, it appears, Amazon is fighting back even more, recently setting up at least 16 Twitter accounts for what it calls "Ambassadors" – former FC employees who now work on-line to "jump to the defense of the on-line retail giant in response to random Twitter users criticizing its notoriously poor pay and working conditions," according to the UK Daily Mail.
An Amazon spokesperson told the Daily Mail that the accounts are all real employees who now work as Ambassadors full time.
That's a lot of Tweeting.
"The most important thing is that they've been here long enough to honestly share the facts based on personal experience," Amazon added.
In one response, an ambassador known as Phil said he "doesn't feel mistreated' in his building after one Twitter user said the company treats its employees very poorly.
(See More Below)
CATEGORY SPONSOR: SOFTEON

Learn More about Softeon's Innovative Supply Chain Solutions
He added: "I even get to use a real bathroom when I want."
The Daily Mail also cited an ambassador named Shaye, who tweeted in response to a Twitter used who criticized Amazon's poor wages, asking "Did you know that Amazon pays warehouse workers 30% more than other retailers?
She claimed the company treated her "much better than previous employers."
Each of the Twitter accounts are similar in appearance, sporting an Amazon smile logo as a header image and featuring a picture of the user in the FC they worked in. Users only use their first name, and all include "Amazon FC Ambassador" in their Twitter handles.
Amazon Now has at Least 16 Full-Time Ambssadors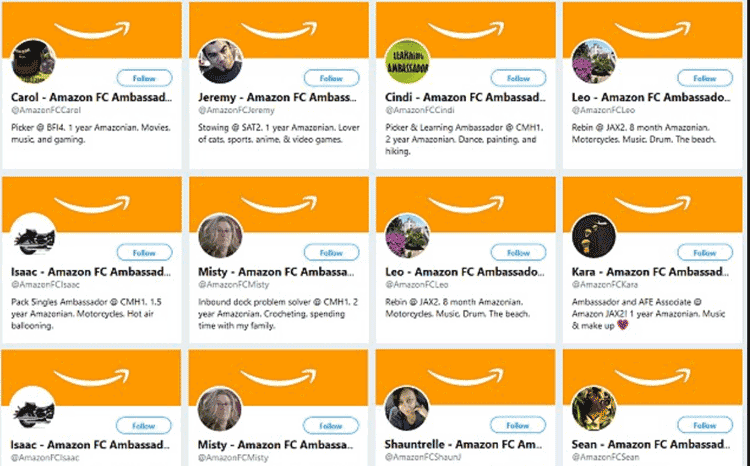 The Twitter bios of the ambassadors are also uniform, each using the same format to list the time they have been an "Amazonian" and the location of their facility – all of which are US-based.
Amazon further told the Daily Mail that "It's important that we do a good job of educating people about the actual environment inside our fulfillment centers, and the FC ambassador program is a big part of that along with the fulfilment center tours we provide."
We live in very new times indeed.
What do you think of this Amazon Ambassador program. Let us your thoughts at the Feedback section below or the link above to send an email.


Source link http://www.scdigest.com/ONTARGET/18-08-27-1.php?CID=14598