With Uber and Lyft bringing major disruption to the taxi industry, and Airbnb doing the same to the hotel sector, it was certainly no surprise that a variety of startups – including Uber with its Uber Freight service – thought they could have a similar impact on the US freight transportation sector.
Supply Chain Digest Says…

It is not as if the established players are standing pat and letting the new digital competitors eat their lunch.

---
What do you say?
Click here to send us your comments

Click here to see reader feedback
The basic idea: use digital and mobile technologies to do a better job matching shippers with truckload capacity, with the advantage being as much to streamline processes, reduce cycle times and provide enhanced visibility as it is to reduce per mile transport costs.
Venture capitalists and other continue to throw big money at these new age electronic brokers. According to the researchers at PitchBook Data, venture capital firms invested nearly $1.2 billion in freight-related companies such as Flexport, Convoy, Haven and more last year, up from still hefty $200 million five years ago.
While not all that investment was in the new digital brokers, a sizable portion of it was. In fact, Convoy investors also include the likes of Bill Gates, Jeff Bezos, and members of the rock band U2.
Flexport, which is a digital freight forwarder, announced in April that it had received a whopping $100 million investment from Chinese courier company SF. That new funding is on top of the more than $200 million Flexport had raised previously.
"You can't have 1 million small trucking companies without brokers, but they're taking a hefty fee without adding much value," Dan Lewis, Convoy's CEO, said in 2015. Traditional brokerage fees average around 20%. Lewis said Convoy's fee varies, but is less than 20%. "This makes it so much more efficient and truckers can make so much more per job."
But just maybe, despite all that dough, digitally disrupting the US freight market may prove a tough nut to track
The Wall Street Journal reported last week that "Established U.S. logistics firms say digital-friendly freight startups that are drawing growing interest in Silicon Valley still lack the scale and customer relationships to threaten their share of the market."
Undoubtedly with some bias but interesting nevertheless, the Journal says executives at C.H. Robinson Worldwide, the largest feight broker in the US, said that large shippers are looking for more than just new technology.
"We continue to invest in technology, but the experience we have, the scale we have, we think that's the competitive advantage for us," Bob Biesterfeld, chief operating officer at C.H. Robinson, said in an interview with the Journal.
And it is not as if the established players are standing pat and letting the new digital competitors eat their lunch.
(See More Below)
CATEGORY SPONSOR: SOFTEON

Learn More about Softeon's Innovative Supply Chain Solutions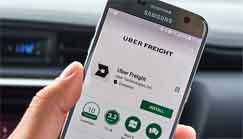 C.H. Robinson, for example, is spending about $150 million a year on technology, and operates an internal "innovation lab" in which employees can test and evaluate ideas.
"We'll see press releases from these private-equity-backed startups with some new feature they're promoting as being cutting-edge and revolutionary, and we look back at our tech and say, 'We do that too. We've been doing that for a while,'" Biesterfeld said.
In fact, the company jump-started its technology investment four years ago with its $365 million acquisition of Freightquote, one of the early players in digital freight marketplaces.
Meanwhile, XPO Logistics says it is going to spend some $450 million in 2018 on technology ranging from automation and robotics to data analysis and the company's digital freight marketplace, which launched earlier this year and now has about 100 large customers and 2,500 carriers.
"The world is going toward digital," XPO Chief Executive Brad Jacobs told the Journal. Jacobs added that freight services are moving toward "cloud-based digital marketplaces" that are "fully-automated, self-learning, dynamic."
And it may just be that the dominant players in that new future are today's leaders, not the digital startups.


Do you think the digital freight services will prosper? Why or why not? Let us know your thoughts at the Feedback section below.
Hannah


Student, Indiana University Bloomington

Posted on: May, 10 2018



Yes I hope so! On a small scale, Gojek (Indonesian company) has more than 10 services. Essentially combining food delivery, grocery deliver, cleaners, massagers and so much more on a mobile app. If this concept can be scaled up using real-time tracking, existing APIs for communication and data supplier and consumer relationship, easy user experience, insurance and less paperwork in general, maybe more users will trust the app/web and become a part of it. Mutual benefits would have to be obvious and there has to be a win-win situation for the freight fowarder consumer and supplier 


Source link http://www.scdigest.com/ontarget/18-05-10-1.php?CID=14191