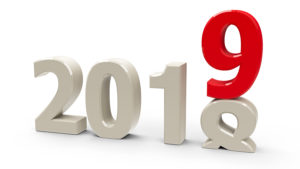 In the coming days, this blog will be posting resolutions, predictions, or observations by Memphians as they look ahead to the new year. 
Scott Brockman, President and CEO, Memphis-Shelby County Airport Authority:
As we start 2019, the Memphis-Shelby County Airport Authority (MSCAA) once again has tremendous optimism for the future.  All three of our airports are poised to make great strides in offering efficient operations for our tenant partners while delivering on our promise of a positively MEMorable experience.
Memphis International Airport (MEM) will enter its 5th year of continual growth in both the number of available airline seats and the number passengers filling them.  Our relentless pursuit of frequent and affordable air service will once again lead our First Team MEM program in 2019.  We will continue to refine our ability to track and define origin and destination (O&D) passenger demand to make the strongest case possible for additional air service.  We will advance the development of our Regional Air Service Alliance which brings regional chambers of commerce from our three-state air service area together to assist in defining our business and leisure passenger demand projections.  Additional focus and efforts will be put into increasing the number of non-stop destinations, both domestic and international.  Our focus will continue on markets in our top 10 unserved destinations, as well as expanded air service to existing routes.
The Concourse B modernization is expected to make great strides during 2019.  This project will set the stage for our future as we totally enhance and re-invent the front-door to the mid-south community.  While not scheduled to be complete until early in CY 2021, this project will set the stage for the eventual modernization of the terminal building including ticketing and baggage claim.  These are clearly amazing times in the history of MEM.
Additionally, our First Team MEM program will continue on our mission to deliver a Positively MEMorable Travel Experience.  This mission strives to bring the total commitment of all individuals involved in the passenger experience.  We will continue to enhance our connection to the passenger and improve on delivering information and services across every facet of our operation through messaging, training, and overall commitment.
On the air cargo front, we will continue to emphasize and enhance our partnership with FedEx to ensure that MEM takes steps to contribute positively to their ability to continue to grow.  The initiation of our $200+million-dollar project on the Consolidated De-icing Facility, scheduled to begin construction in 2019, will greatly improve the operational efficiency for all of our airline partners but especially FedEx as our dominant overnight air transportation operator.  This project should start delivering benefits as early as winter 2021.  UPS has also indicated a desire to continue their growth in air and ground cargo delivery services which should positively impact job creation and economic impact.
At our two general aviation reliever airports (General DeWitt Spain and Charles W Baker), we will enhance our focus on development and improvement of our services and the delivery of quality enhancements of the physical infrastructure.
Development at General DeWitt Spain, located on North 2nd Street just north of downtown on the Mississippi River, and at Charles W Baker, located in Millington, will be driven by the Master Plan that began in 2018.  This is the first ever Master Plan process conducted for our general aviation airports which evaluates our inventory of assets, measures current and projects future demand, and presents development alternatives over various planning activity levels to meet demand.   During this process, we will evaluate operating and administrative procedures and processes to ensure that we provide quality services while remaining in compliance with the countless regulations placed on airport operations.