As usual, SCDigest was at MHI's MODEX show in Atlanta last spring, reporting on the best new solutions we found walking
the show floor for two days. (See MODEX 2018 Day 1 Video Review, MODEX Day 2 Video Review.)
As it has for the last six years, MHI also ran its own innovation contest, looking for a winner and three runners up in three categories: Best New Innovation, Best Innovation for an Existing Product, and Best New IT Innovation.
Supply Chain Digest Says…

While a lot of companies have a WMS and a TMS, the yard frequently becomes a bit of a black hole.

---
What do you say?
Click here to send us your comments

Click here to see reader feedback
The first two categories encompass physical material handling systems. The IT category is mostly related to logistic software innovations.
We decided to take another look at the results, as determined by a volunteer panel of logistics professionals representing Home Depot, Mohawk Industries, Champion Petfoods, Group Deschenes, and 3M.
They sorted through the 111 entries MHI received across the three categories, whittling that group down to four finalists in each category. On Monday of MODEX week, finalists' exhibits were visited in person by the judges who selected the winners based on their ability to deliver quantifiable and sustainable return on investment (ROI), cost savings and customer satisfaction
This week, we'll look at the three winners. Next week, our favorites from the runners up.
Here we go:
Best New Innovation Category
Winner: The Raymond Corp., for the Raymond Virtual Reality Simulator


Plugging the Raymond Virtual Reality Simulator into the patent-pending sPort on multiple models of The Raymond Corporation's forklifts converts the vehicle into an interactive, yet stationary, training system that fully immerses the lift truck operator into a learning environment.
"What makes the system so innovative is that it engages the operator on the actual truck, working within the physical compartment on the vehicle's own controls. That allows them to gain tactile experience with the ergonomics of the handle, the placement of the controls, and their field of view," explains Stacey Patch, business manager for the system.
"The system gives a new user proficiency on the vehicle to boost their comfort and confidence in their skills, which leads to an increase in onboarding speed and overall productivity," she adds. "Likewise, the system helps an experienced operator learn a new vehicle with similar benefits."
When plugged in, the training system disables all functions except the controls required for the simulation. The operator wears an HTC Vive headset supplemented with Leap Motion hand tracking, allowing them to see their own hands within the simulated environment, and proceeds at their own pace through a series of nine to 16 lessons – depending on the truck – that progress from basic to advanced skills. Trainee progress is assessed on a proficiency scale of 100, not as a pass or fail, but as a means to measure and reinforce improvement.
"With more companies adding more jobs all the time, yet struggling to fill more positions with skilled workers, the system helps them onboard new operators with engaging, interactive, truck-specific instruction more efficiently," she continues. "Plus, the virtual reality aspect gives the system that 'cool factor' that is highly attractive to the millennial generation of job seekers."
Released in January, another innovative training feature within the system—which is still conducted under the guidance of a certified instructor—is comprehensive back-end reporting about each trainee's progress.
"From the instructor's perspective, the reporting function allows them to gather feedback on areas that need additional focus. For example, it documents occurrences of the operator failing to honk their horn when required, or to look right and left at a key time," Patch notes. "From that data, the instructor can go back and address specific areas that need additional reinforcement."
Patch says the Raymond team is very excited about the possibilities for the virtual reality simulator and is adding new vehicle models to the package all the time. "We're honored to have been recognized with the Innovation Award, as new products like this one reinforce our commitment to helping our customers reach even higher levels of productivity and efficiency," she added.
(See More Below)
CATEGORY SPONSOR: SOFTEON

Learn More about Softeon's Innovative Supply Chain Solutions
Best Innovation of an Existing Product Category
Winner: ELOKON GmbH, for its ELOshield Proximity Detection System


To help reduce the chance of injuries caused by accidents with industrial vehicles and improve overall workplace safety, the ELOshield was designed to prevent forklift collisions with pedestrians and other lift trucks. Introduced two years ago, the proximity detection system includes ultra-wideband (UWB) radio-frequency units placed on vehicles, wearable pedestrian tags, and fixed modules mounted in high traffic areas.
"When installed, the ELOshield creates two programmable, adjustable fields – a warning zone and a danger zone – around a truck, a pedestrian or a specific facility location," explains Alexander Glasmacher, ELOKON's managing director.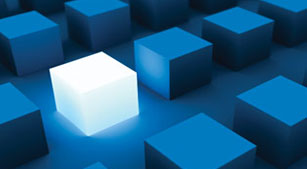 "If a pedestrian enters the warning zone, their badge can be programmed to vibrate; simultaneously the vehicle unit will blink yellow to indicate to the truck operator that a pedestrian is within a certain warning distance," he continues. "Pedestrian entry into the danger zone triggers the wearable badge to vibrate and sound an alarm, while the truck unit blinks red and indicates how many pedestrian badges are in the danger zone. Activation of a danger zone alert also triggers the truck to slow to creep speed."
The UWB technology is what makes the solution so innovative, adds Glasmacher. "It enables us to detect pedestrians and other vehicles at long ranges – up to 50 feet," he says. "It also allows for customization of zones to avoid false alarms."
Additionally, ELOKON is continuously looking for new ways to leverage the ELOshield technology, he notes, adding that the company is currently examining ways to collect data from warning and danger zone transgressions to help safety and site engineers detect high-risk areas within their facilities.
"We're also looking to further integrate the system into truck electronics to enable dynamic adaptation of detection range based on vehicle travel speed," Glasmacher said.
Best IT Innovation Category
Winner: Yard Management Solutions – Eagle Eye Yard Management Software

In working with leading manufacturing and distribution centers, some of the key issues they are struggling with is the lack of visibility and analytics on trailers, shipments and workforce activities in the yard, explains Jeff Papadelis, partner at Yard Management Solutions.
"The old radio, paper and clipboard method just does not deliver the information managers need to make informed decisions in managing their yards. Eliminating those inefficiencies is why Eagle Eye yard management software (YMS) was developed," he says.
While a lot of companies have a warehouse management system (WMS) and a transportation management system (TMS), the yard frequently becomes a bit of a black hole, continues Papadelis.
"So many operations simply don't have accurate information on what trailers are in the yard, their shipment manifest, their exact location, how long they've been there, turn times, dwell times, performance metrics and spotter activity," he notes. "This lack of visibility leads to a gaping hole in the supply chain with many opportunities for significant loss of time and money. With our Eagle Eye YMS, these operations get visibility, analytics and automated communications in the yard to speed up their processes and dramatically cut costs."
Released two years ago, the system includes a comprehensive suite of yard management tools. Each implementation starts with the creation of a graphical display of the complete yard, Papadelis explains. "We build this with a high focus on simplicity and ease of use. To move a trailer from one position to another, for example, it's a click-drag-drop process that automatically generates a move request, sends it to the driver digitally, and updates the map in real-time during the move," he says.
Further, to protect against service failures, the entire operation is monitored by the Eagle Eye system around the clock. It sends instantaneous alerts to operation managers about key issues such as departure and arrival times, detention issues, spotter activity and inactive equipment.
The software also delivers a broad range of analytics and metrics reporting, instantaneously producing historic and current insight into workforce activities, trailers, equipment, inventory, turn time, and more.
We will be back with our favorites from the runners up next week.
What do you think of these three innovation award winners? Let us your thoughts at the Feedback section below or the link above to send an email.


Source link http://www.scdigest.com/ontarget/18-08-22-1.php?CID=14586